About Wetaskiwin Aerial Applicators Ltd.
Our story begins in 1981 with owners Brent Lange and Larry McDonald. In 2000 Larry left the business to pursue other interests. After 5 years of being a manager at Wetaskiwin Aerial, Corey has become the owner, along with his partner Hope in February 2019.
Corey has been aerial spraying for 12 years. Corey is a commercial fixed and rotary wing pilot with an M1/M2 Aircraft Maintenance Engineer license. He has spent time flying in BC and Yukon mountains and has flown across Canada in helicopters and airplanes. Corey is also a certified spray analyst. Hope has a diploma in Occupational Health and Safety and spent time working North of Fort McMurray with Bird Construction. Since then, Hope has been working at Wetaskiwin Aerial for 3 years in the office. With Corey's passion for flying and Hope's enjoyment for office work, we are definitely one another's better half and make up for others weaknesses accordingly. We both bring a different, yet crucial, skillset to the operation.
Bruce Gair has been piloting with us for over 30 years! Ben Robinson has been flying with us for 2 years and comes all the way from New Zealand. Jenny Flynn (nee Lange) has been with Wetaskiwin Aerial since 2013 managing the office and helping with ground crew. Steven Wood started with us in 2019 and can be found wrenching on airplanes in the winter, and mixing/loading in the summer.
Who we are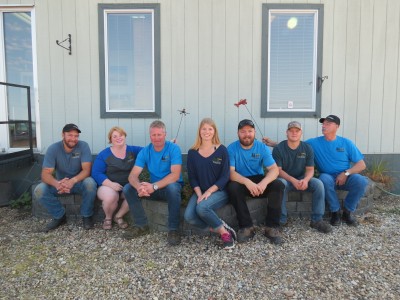 Corey Lange - Owner
Hope Cosens - Owner
Bruce Gair - Pilot
Ben Robinson - Pilot
Jenny Flynn - Administration
Steven Wood - Ground Crew/Aircraft Mechanic